From automation to digitization: new professorship of Digital Business & Society connects and integrates three programme lines
In a world where we are connected 24/7 – and a society in which smart technology enables us continually to discover and explore new methods of production, learning and working – developments are going at lightning speed. Not only robotics is rapidly gaining ground, the use of data science and artificial intelligence is also taking off over the next 2 years. This is why Windesheim University of Applied Sciences decided 2 years ago to broaden the scope of the present professorship of Industrial Automation & Robotics. As a result, the new professorship of Digital Business & Society is starting officially as of 1 April 2023, with Erik Fledderus as its initiator and new professor.
In 2021 Erik Fledderus started as a quartermaster professor with his exploration to expand the professorship of Industrial Automation & Robotics to turn it into a broader research group. In other words, a professorship that would be able to combine various issues and perspectives on the subject of digitization and that could act as a research and discussion partner for the outside world and the professional field – within their own region as well as beyond. Erik Fledderus: "The professorship of Industrial Automation & Robotics was definitely a good choice. It strikes an important chord and with its research and knowledge it addresses major developments in industry, professional field and our region. Windesheim University of Applied Sciences is responding accordingly by increasing its educational offerings in industrial automation and robotics."
Digitization issues as a wireframe of a broad-based professorship
"That's what we get to keep, both in education and in research. Because when we wanted to expand, we had to ask ourselves: do we set up another professorship next to this one, or do we build one around the existing professorship? I believe that choosing the latter option was a smart move for Windesheim: a broad-based professorship with enough mass to connect as well as integrate. For a lot of the technological developments that are coming our way are interrelated and you can't view or research them as separate. How future-proof are you really if you use cobots in production without digital data management for continuous measurement and improvement of what goes on in and with all those smart processes? Digitization is, you might say, a kind of engine under the bonnet which other sectors and/or fields also need to work with. So it's definitely a good idea to address new and smart technologies as interrelated developments. Also concerning the question of their significance to our society: the ethical aspect. Besides the present focus, there are two more themes: Digitization in SMBs and Digital Society."
Industrial Automation & Robotics programme line
The business community is now stepping up investments in industrial automation & robotics (IA&R) and as an educational and research institute Windesheim is following suit. For example, by offering an Associate degree programme, but also by means of practice-based research. This is why the present professorship of Industrial Automation & Robotics(opens in new tab) is now merging into the new professorship. IA&R offers a lot of opportunities, but the manufacturing industry needs the right knowledge and tools to get to work and capitalize on them. Associate Professor Aart Schoonderbeek(opens in new tab) is doing research on this: "It all starts with a question from a company; that's the starting point for us as researchers. Theory as well as practice. And then we see to it that other companies can also use this knowledge."
Digitization in SMBs programme line
The professorship emphasizes that it does not just want to work with front-runners in smart innovations, but especially also with companies that are not first in line for innovations, but do want to benefit from them. Like (regional) SMBs, which do not always have the resources or a department to invent the wheel in-house. Erik Fledderus comments: "Especially practice-based research at a University of Applied Sciences should be done in full collaboration with companies that are curious about how changes will impact their operation. For instance, HBO-ICT students based in the digital workshop MoveDigi(opens in new tab) and helping companies with their digitization issues, with input from the professorship."
Digital Society programme line
The third programme line conducts research on the significance of artificial intelligence and data science to our society. The new professor: "You can see that technology also has a different aspect, apart from functionality. And digitization is no exception there. For instance, privacy, security and how digitization enables you to create some kind of parallel reality. So in our research we also include how concerns and issues in society can be weighed directly. Rather than fixing things towards the end, include as an integral requirement that a technology must be secure. In other words 'ethics by design'."
A new professorship, but already getting into its stride
Even though the professorship is set to start on 1 April 2023, many research projects already started under the previous professorship of Industrial Automation & Robotics and in the exploratory phase. For instance, the professorship is involved in one of the three pilots, co-funded by the Ministry of Health, Welfare and Sport, to research, in collaboration with PEC Zwolle and other partners, how to use stadium access technology to detect manifestations of potential undesirable behaviour, like racist or discriminatory expressions by means of a chant, flag or banner. They also do research in collaboration with and commissioned by the Dienst Toeslagen (Benefits Department of the Netherlands Tax Administration) on the bias in algorithms, following the benefits scandal. Many of the ongoing projects are executed in close collaboration with the Centre for Expertise TechForFuture(opens in new tab) and the innovation centre Perron038(opens in new tab) in Zwolle.
About Erik Fledderus
Erik Fledderus studied applied mathematics in Twente, obtained his PhD there and in 1997 started working for KPN Research (which later merged into TNO). He was Managing Director of SURF and professor of Wireless Communication in Eindhoven. He acquired technological-content and administrative experience in positions with various employers, including the Joint Institute for Innovation Policy and the European Commission. Since 2021 he was a quartermaster professor for Windesheim's research centre of Technology until 1 April 2023, when he became professor of Digital Business & Society.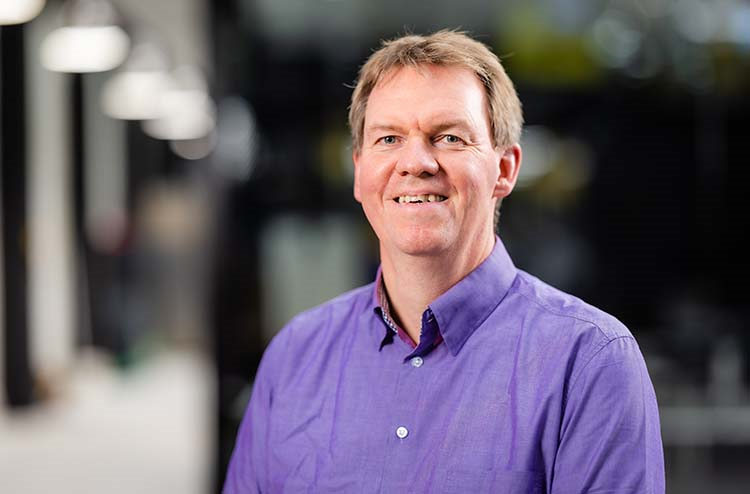 Read more about the professorship of Digital Business & Society(opens in new tab)