European Award for Research Group Living Well with Dementia
Windesheims research group Living Well with Dementia has won the 3rd-place award in the Anti-Stigma Award Competition. They will receive the award for their card game '16 Misconceptions about Culture-Sensitive Care'. The card game helps to establish a better match between care and people with dementia and a migration background. The game is regarded as an innovative tool for health-care professionals and students of health care and social work.
Subconscious stereotypical images often still play a role in health care and support. The card game helps us to literally map these images. This way (future) health-care professionals develop greater awareness of their own image of the other person. This enables them to reflect on their own beliefs and actions. It's an innovative tool to establish a better match between the care provided and people with dementia and a migration background, so that they too can live well with dementia. This award is given in recognition of the work of the research group and all of its collaboration partners. This work serves to demonstrate the feasibility of living well with dementia.
Living well with dementia, regardless of background
Gili Yaron, Gözde Duran, Leontine Groen-van de Ven and Simone de Bruin took receipt of the award on behalf of the research team and expressed their thanks to Alzheimer Europe. Simone: "This award helps us achieve our ambition to make living well with dementia possible for everyone, regardless of their background. We know that professionals are very keen to provide culture-sensitive care and support. We can help them do that by providing this card game to create awareness of inclusion".
An international version of the card game may follow. The card game was met with a great deal of attention during the Alzheimer Europe Congress in Helsinki.
The winner of the award competition was BME Dementia Services from the United Kingdom. They received the award because of their specialist support to people with memory issues and people with dementia and their carers/family members from Black and ethnic minority communities.
Text continues below photo, Gili Yaron of Living Well with Dementia is visible on the left-hand side.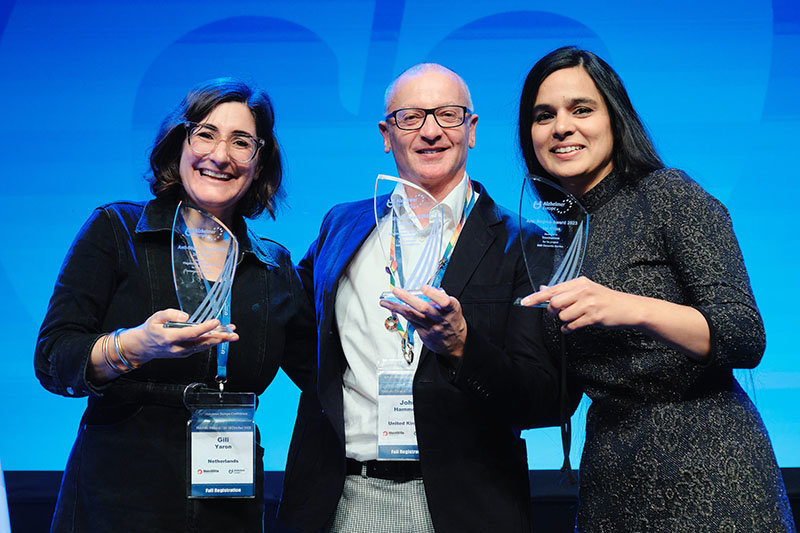 The award was presented during the closing ceremony of the Alzheimer Europe Congress in Helsinki on Tuesday 17 October.